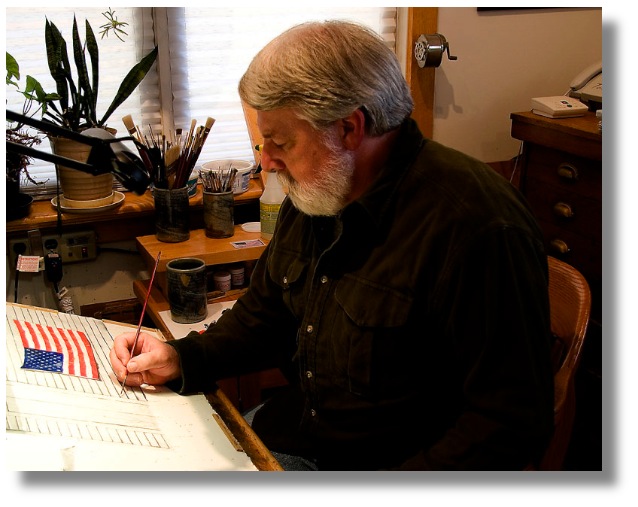 I am a native North Carolinian and have maintained a studio in Cullowhee, North Carolina for the past 30+ years. Cullowhee has been described as
"more a state-of-mind than a town."
It
is located in the most beautiful part of Western North Carolina.

My home county, Jackson, is bordered on the north by the Plott Balsam Mountain Range, a series of peaks averaging well in excess of 4,500 feet. Whiteside mountain in the southwest has the highest vertical cliffs in the eastern United States, about 1,800 feet. Also, in the southern part of the county is Whitewater Falls, the highest waterfall in the eastern United States. It descends some 411 feet just below the Eastern Continental Divide. The northwestern part of Jackson County is bordered by the North Carolina entrance to the Great Smoky Mountains National Park and the southern terminus of the Blue Ridge Parkway. The highest point on the Parkway is on Jackson County's border at Richland Balsam, 6,410 feet.
For over 40 years, I have been a painter in the representational school. I graduated from Appalachian State University in Boone, North Carolina with a BA degree in art and a concentration in studio painting. There I studied under the painter
Bill Dunlap
. I received my primary graphics instruction at Appalachian from
Noyes Capehart Long
.

I roam these western North Carolina mountains with camera in hand, gathering
"information"
for the creative process I follow. My photographs provide a starting point for paintings.


The emphasis is not always on a literal translation of the photo. Many people are sometimes challenged to recognize the subject matter or locale when they are introduced to it by me in person. The term
"Artist's License"
has been used to explain my departure from an exact reproduction of the elements of a particular scene. In most cases, main subjects are treated as true representations.
Gallery Representation


At present I am represented exclusively by It's by Nature gallery located at 678 West Main Street in downtown Sylva, North Carolina. Sandi Cooper, owner of the gallery, handles my original work as well as giclée reproductions. The gallery features a collection of carefully selected, individually created works from more than 150 local and regional artists.
Knickerbocker Artists


I am pleased to have the distinction of being the last person ever elected a Signature Member of the Knickerbocker Artists (K.A.). This art society originated in New York, New York in 1947 to encourage those interested in practicing Fine and Applied Arts ..... to publicly display their works for recognition ..... and to stimulate cultural awareness and enjoyment for the public. It was an elite art society dedicated to showing the best in Contemporary Art. Over the years, the society gradually lost purpose and in the end was dissolved by its board of directors out of a necessity that became evident to them.
Weathered Oak
watercolor and egg medium
I see an even stronger suit in Craig's work, and that is his treatment of atmospheric perspective. I see Hudson (River) school reverence for nature's beauty, its magnitude, heavenly ........ But what amazes me about Craig's paintings is that he does not need a huge canvas and acres of foliage, rivers, lakes, and ponds, and mists rising off sloughs, with orange sunlit rays breaking out of cloud banks to show us his deft handling of distance.

No, Craig pulls it off with minimal color, nuances of softened detail, in simplistic vistas. Craig's snowy fields cradle weathered old barns and the composition's Tension Point (he calls it) draws the viewer way back into the field behind the barn, snow-covered trees, diminishing ever-so-softly in detail, that it looks like it goes back to West Virginia.

He accomplishes this more by what he does not do, than what he does, leaving close to 50% of the space in the snowy look of untouched paper. Amazing! You have to see his images to appreciate how powerful his nothing is. He has subtle transition into pregnant understatement........ into negative areas down to a masterful pat.

He probably keeps a jar of atmosphere to dip his brush in.

David Maxwell
President - Knickerbocker Artists - USA